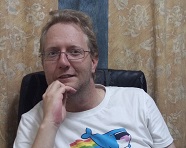 Graham Downs is a South African author of short stories, flash fiction, and novelettes, in a variety of genres. Memoirs of a Guardian Angel is his longest work to date.
He currently lives in Alberton, Gauteng, with his wife and their dog, Becky. He spends a good portion of his free time reading and, as with his writing, he reads books in a huge range of genres and lengths. He's also passionate about South African authors—particularly independently published ones.
Graham's publishing journey began in 2012, with his first book, A Petition to Magic, which is a fantasy short story about a wizard who refuses to perform magic, and a queen who insists that he do just that. He freely admits that back then, just like John Snow, he knew nothing (now, he knows perhaps a trifle more than nothing).
Since those fateful first steps, he's never looked back, publishing five more books in almost as many genres, as well as getting a story included in the charity anthology, I Am Not Frazzle! (And Other Stories For Grown-ups).
His latest work, Memoirs of a Guardian Angel, was launched on 6 April 2018, and is available in both e-book and paperback formats, from a wide variety of retailers. Click here for more information.